The idea to run the memorial decals was presented to the Wood Brothers/JTG Race Team by George Beekman, who lost his stepson, Joshua E. Woody, in the tragedy. The Wood Brothers appealed to the U.S. Air Force as an associate sponsor on the car to donate the necessary space on the race car. Air Force Captain Jonathan Ness assisted in the process. "We were genuinely moved by the appeal from Mr. Beekman, and are happy to represent those servicemen killed in the line of duty that day on this solemn anniversary of the tragedy," he stated. The Air Force handed out b-post sized decals to all of the NASCAR NEXTEL Cup teams, as well. Signs By Tomorrow of Brentwood, TN, provided the decals for this effort.
George Beekman designed the memorial decal that adorned the race car. In addition, the decal was featured in two separate memorial services that weekend. The first, at Eglin Air Force Base in Fort Walton Beach , Florida on Friday, June 23rd. Twelve of the nineteen servicemen killed in the blast were from Eglin AFB. The second memorial, was held Sunday, June 25th at noon, was a service at Arlington National Cemetery in which the logo adorned the centerpiece of the wreath laid in remembrance of the fallen heroes.

The first lap of the race at Infineon Raceway was also the last one for Ken Schrader and his Little Debbie Ford Fusion crew.
Ken Schrader lost traction in turn eight and his car started to slide sideways. Then the Little Debbie Ford slid back across the track and was struck by Sterling Marlin.

NASCAR also used a 3 inch "NEVER TO BE FORGOTTEN" decal on the "B" post of the Sprint Cup cars at Sonoma in 2006 and again at Sonoma in 2011 in rememberance of those lost in the 1996 Khobar Towers Bombing.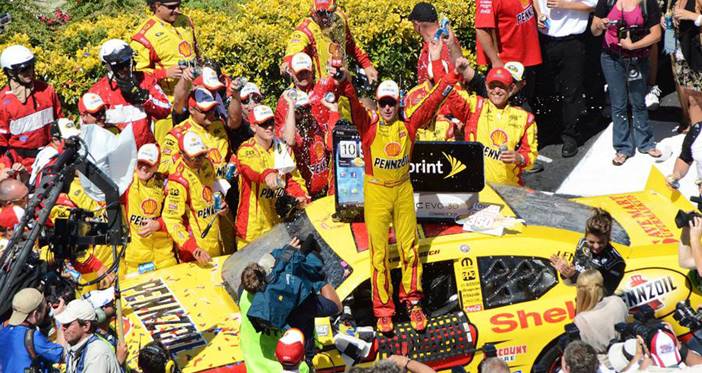 Kurt Busch in Victory Lane at Sonoma, 2011 with Khobar Towers Decal on the "B" post