Joshua 's Obituary and Memorial Services
Corning Observer

July 2, 1996

Joshua Edward Woody

Airman First Class

Corning, CA - Airman First Class Joshua Edward Woody, U.S. Air Force, age 20, passed away Tuesday, June 25, 1996, in Saudi Arabia.

Joshua was born in San Jose, California. He was a member of the 33rd Fighter Wing, 58th Squadron, and a former Lyons Club All Star football team member.

Survivors include his wife, Dawn Woody of Fort Walton Beach, FL; mother and stepfather, Bernadine and George Beekman of Corning, CA; father and stepmother, John and Carol Woody of Corning, CA; brothers Timothy Woody of Corning, CA and John Edward Woody, Jr. of Chicago, IL; sisters, Tracy Marie Woody of Willows, CA, Fireman Jonica Lynn Woody of the USS Detroit, and Cindy Lee Woody of Chicago, IL.

Funeral services will be conducted at 10 a.m. Friday, July 5, at Our Lady of Victory Catholic Church in Crestview, FL with Father Brian Ryan officiating. Burial will follow at 1:30 p.m. in Barrancas National Cemetery in Pensacola, FL, with full military honors.

The family will receive friends at the funeral home from 6 to 9 p.m. Tuesday, July 4th.

Whitehurst Funeral Home, Crestview, FL, is in charge of arrangements.
Corning Observer - July 15, 1996

Family, friends remember Josh

By TODD SHURTLEFF
Staff Writer

It was just the way Joshua Woody would've liked his friends to celebrate his life.

Woody, who is best remembered by his friends for his "great smile" and was known for his "monkey faces" was honored by more than 300 people who Joined his family members in a memorial service held on Saturday night inside the Corning Union High School gymnasium.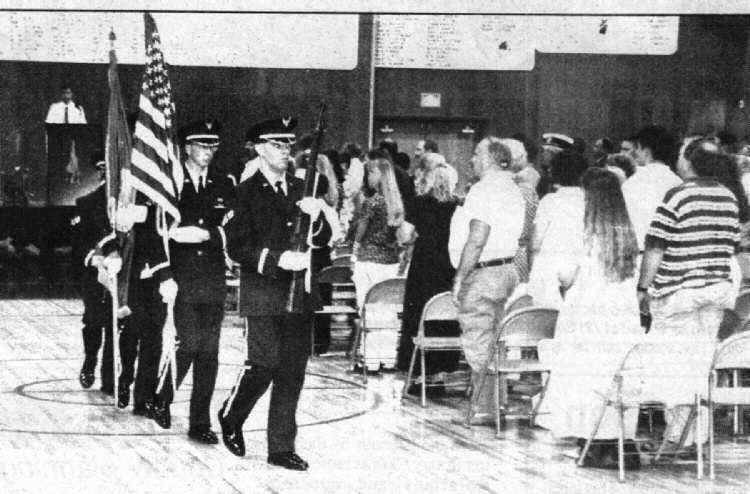 The Beale AFB Color Guard prepares the "Retirement of Colors" at the end of Saturday night's memorial service for Joshua Woody.
Woody, a U.S. Airman 1st Class, was killed, by a terrorist truck bomb blast June 25 while stationed at a U.S. military base in Dhahran, Saudi Arabia.
A Beale AFB Color Guard was in attendance for the service and was joined by Captain Charles Knauer, who spoke during the ceremonies and also read a poem.
Woody had moved along with his family from San Jose to Corning in 1989. He was a member of the class of 1994 at Corning Union High School, was a co-captain and standout on the football team and competed on the wrestling squad.
The memorial service began with a welcome to the crowd by one of Woody closest friends here in Corning, Ben Dennis.
"Josh was my best friend and we had a lot of fun together," Dennis told the gathering. "He would do anything for anybody and always had a smile on his face."
After an invocation by Knauer, a video of the Eglin AFB memorial service held two weeks ago in Florida was played for the gathering and included remarks from President Clinton and a song, "On Eagles Wings," which was performed by Kathryn Rasu.
Following the video, Woody's former boss at McDonalds, Tom Ramos, spoke and was one of five speakers who remembered their contact with Josh. Among those who spoke were Jim Bingham, Don Minto and Bob Hall, all teachers and coaches at Corning High School along with Mark Pettengill, a teacher at Foothill High School in Redding.
Hall announced at the end of his speaking that there is a memorial fund set up and that the first Corning home football game for the 1996 season on September 6 will be dedicated to Josh.
Hall said that the money raised from the fund would go toward a small memorial of Josh that will be displayed on the campus, and any extra money from the fund would go
toward a new sound system for the foot ball stadium.
Those wishing to make a donation to the Joshua Woody Memorial
Fund can do so through Corning Union High School.
| | |
| --- | --- |
| | Some members of Corning Boy Scout Troop #5 who attended the service look at a memorial to Joshua Woody that was set up on a table. |
Redding Record Searchlight, July 14, 1996
Friends, family pay respects to airman killed in Mideast
The former Corning resident died at a U.S. military complex in Saudi Arabia on June 25 when a terrorist truck bomb was detonated.
By Damon Arthur
R-S civic affairs reporter
| | | |
| --- | --- | --- |
| | | |
| Eric Thibodeau hugs Joshua Woody's mother, Bernadine Beekman, at Saturday's service. | | Former teammates remember Joshua Woody Saturday |

CORNING — Tom Ramos shared Joshua Edward Woody's memory with a little roll of nylon electrical tape.

Eric Thibodeau had a stained football jersey to recall his former classmate. And about 400 other friends and family who attended a memorial service Saturday for the slain soldier had the youth's spirit in their hearts.

"Whenever a small town rallies in the face of tragedy and becomes better for it, I'll think of Josh," said his former teacher at Coming High School, Jim Bingham.

Woody, 20, was killed June 25 along with 18 other American airmen when a terrorist's truck bomb exploded at a military complex in Dhahran, Saudi Arabia. He was buried July 5 at Barrancas National Cemetery on the grounds of Pensacola Naval Air Station in Florida.

But Coming residents held a memorial service Saturday night at the high school gym in his honor.

"It is men and women like Joshua who have made freedom possible in this country," U.S. Air Force Capt. Charles Knauer said in his honor.

During the ceremony, Thibodeau and about a dozen other football players from Airman 1st Class Woody's Corning High School class of 1994 presented Woody's number 88 jersey to coach Bob Hall.

Thibodeau said the team members all signed the white, red and black jersey, which is being retired. Another jersey was also presented to Woody's parents, mother and stepfather, Bernadine and George Beekman of Corning and father and stepmother, John and Carol Woody of Rancho Tehama.

Woody's wife, Dawn Riniker Woody, of Pryor, Okla., also attended the memorial service. The two had been married only since February.

The couple had lived in Fort Walton Beach, Fla., where Woody was stationed as a weapons load specialist with the 58th Fighter Squadron at Eglin Air Force Base.
Knauer said prior to the service that Woody was posthumously awarded the Meritorious Service Award. He was also awarded the Purple Heart, which is presented to soldiers wounded or killed, in the line of duty, Knauer said.

Foothill High School football coach Mark Pettengill said the Aug 3 high school Lions All-Star Football Game will be dedicated this year to Woody. Pettengill coached Woody in the 1994 all-star game.

Hall said a memorial fund has been set up at the high school and the proceeds will go toward upgrading the public address system at Cardinal Stadium in Corning.
And the football team's first home game will be dedicated to Woody, Hall said.
Pettengill said he remembered Woody's performance against Foothill during a 1993 match up between the two teams.

"That's when we first got a taste of Josh. He was a really good kid," Pettengill said.
Bingham, his former teacher, said Woody was a man of deeds. "Josh was economical with his words," Bingham said. "He was like a hero in a '50s western movie. He let his actions speak."

Ramos, his boss at the McDonald's restaurant in Corning; said Woody could do wonders with a roll of electrical tape and a screwdriver. "With those tools Josh could fix anything," Ramos said.